Xiao Xiao Bin (小小彬) is arguably the most popular child actor in Taiwanese entertainment, and probably the cutest kid in the entire world. Born on November 22, 2004, he made his TV debut when he was just two years old, but it was the smash hit 2009 drama Autumn's Concerto that shot him to fame. His performance as Ady An and Vanness Wu's son was so impressive that many netizens began calling him a child prodigy.

Xiao Xiao Bin, whose real name is Wen Xuanye, is the son of popular child star Wen Zhaoyu (more commonly known as Xiao Bin Bin). He also has a little brother, who is known as Mini Bin. At the moment, he is one of the hosts for the game show Xiao Hai Hen Mang (Children Are Busy).

Xiao Xiao Bin's next project is the remake of the movie Destiny's Pair, starring Vic Zhou and Ella. Xiao Xiao Bin will play the role his father played in the original movie.


FILMOGRAPHY

| | |
| --- | --- |
| DRAMA TITLE | COSTARS |
| Star Knows My Heart 星星知我心 (2007) | Yang Kuei-Mei, Jian Chang |
| Love at Sun Moon Lake 愛在日月潭 (2008) | Ruby Lin, Wen Zhang |
| Autumn's Concerto 下一站幸福 (2009) | Ady An, Vanness Wu, Chris Wu |
| Down with Love 就想賴著妳 (2009) | Jerry Yan, Ella, Chen Zihan |
| P.S. Man 偷心大聖P.S.男 (2010) | Blue Lan, Sonia Sui, Bianca Bai |
| Love Keeps Going 美樂加油 (2011) | Cyndi Wang, Mike He |
| MOVIE TITLE | COSTARS |
| Lost and Found 小孩·狗 (2010) | Jessica Liu, James Wen |
| Just Call Me Nobody 大笑江湖 (2011) | Xiao Shenyang, Zhao Benshan, Kelly Lin |
| Destiny's Pair 新天生一对 (upcoming) | Vic Zhou, Ella, Yang Mi |



VIDEO CLIPS
"Miss you, miss you!" This is Xiao Xiao Bin's first appearance in Autumn's Concerto, where he stole the hearts of viewers everywhere with his extreme adorableness. His character, Xiao Le, is trying to send a signal to his "alien daddy" from the Planet Dala.



The best part about Autumn's Concerto, apart from Xiao Xiao Bin, is watching his bloopers! Here's an English-subbed video of several of his "NGs." (If you like Vanness, he also had quite a few NGs of his own. :D)



Xiao Xiao Bin also filmed a commercial with his dad, advertising a fever patch. I squee'd whenever I saw this on TV when I was in Taiwan.



And because this show is awesome... Xiao Xiao Bin on Kang Xi Lai Le, with English subs.
Part 1: http://www.youtube.com/watch?v=NyBjieJdd84
Part 2: http://www.youtube.com/watch?v=2o4jgUUSfK8
Part 3: http://www.youtube.com/watch?v=c_jVA4nyfwk


PICTURES
(L-R) Xiao Xiao Bin with his father (Xiao Bin Bin) and little brother (Mini Bin)



Xiao Xiao Bin advertising a fever patch with his father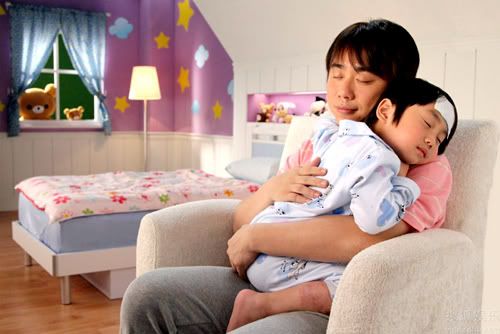 Xiao Xiao Bin with Ady An and Vanness Wu in Autumn's Concerto



And a gif of him taking Vanness's hand in Autumn's Concerto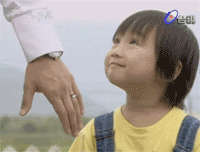 WHY HE'S AWESOME
- He is freakin' adorable.
- He's a better actor than a lot of older Taiwanese idol actors.
- He's worked with three members of F4 (two of them as his daddies, one as his uncle).
- He's pretty much the reason Autumn's Concerto was so successful (apart from Vanness and Ady's crazy chemistry, and the epic director/producer team).
- He's really cute when he forgets his lines or messes them up.
- He blinks a lot, and it's super adorable.
- He went on Kang Xi Lai Le and told Kevin Tsai that he did not know who Xiao S was. LOOOL. On the other hand, he was very familiar with "Hu Die Jiejie," even though (according to Xiao S) she's a lot less popular than Xiao S, haha.
- I'm pretty sure he doesn't know how to enunciate "li hai" and yet it's really adorable whenever he has to say it.
- Actually, anything he says is really adorable. ♥
- How can you not melt at that smile????